Customer Rides
Success Stories
Here are links to some vehicles that are using one or more of the Zilla motor controllers. The vast majority of Zillas are in regular street EV conversions. On this page we're mostly showing race cars since they show so well and it's been a long time since this page was updated.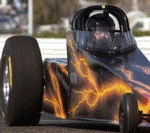 http://www.CurrentEliminator.net/ The World's QUICKEST Electric Dragster! **

http://www.killacycle.com/ The World's QUICKEST Electric Motorcycle!**

John Waylands White Zombie The Datsun 1200 drag race EV. **

Mike Willmon's "el Pinto Loco" Electric racing Ford Pinto.

http://www.commutercars.com/ Commutercars skinny car, the Tango **

http://www.go-ev.com/ NetGains Bad Amplitude.

Bob Schneeveis` "Snowhite" electric race car This is for sale.

http://evcl.com/914/ My own electric 914 which I built in order to tests Zillas. **

EV Album with Zillas. Lest it be thought that we only make controllers for race cars, have a look at the EV Album. You will find many regular daily drivers there that run Zilla controllers. There are several pages of them, keep clicking the "Next" button for more.

Vehicles with ** are NEDRA World Record Holders